Review Top Clash of Clans Marketplaces on the internet in 2023:
If you are looking to get a Clash of Clans account and are concerned about being scammed or wasting your money, you need to read this post to the end. I'm going to share my experience in this market over the past 3 years with you. So you will be able to avoid scammers and make a smart purchase.
There are various Clash of Clans marketplaces on the internet to trade COC accounts. However, in those places, there are many scammers too. So, any Clash of Clans buyers should know some essential facts about Clash of Clans marketplaces before purchasing an account.
In this post, first, we will talk about the main reasons you need to get a Clash of Clans account, and Where you can find a safe and legit Clash of Clans Marketplace to get one. How to recognize and avoid scammers, and What to look for when choosing a COC account. In the end, I have a special offer for you. Let's get started!
A brief introduction to the Clash of Clans game:
Clash of Clans (COC) is an online multiplayer game developed and published by Finnish game developer Supercell.
The game was released for iOS platforms on August 2, 2012, and on Google Play for Android on October 7, 2013. Players form communities called clans, train troops, and attack other players to earn resources.
There are four currencies or resources in the game. Gold and elixir can be used to build and upgrade defenses and traps to protect the player against other player's attacks, and to build and upgrade buildings and troops.
The main reasons to get a Clash of Clans account:
Unfortunately, COC is a very time-consuming game, you'll need to spend 1 to 2 Years to reach Town Hall 14 or 15.
In fact, It usually takes many months before you can unlock strong units and make a Powerful base that can defend itself. To cut through all that, you need to get a Clash of Clans account.
Most popular Clash of Clans Marketplaces:
There are many Clash of Clans marketplaces that sell COC accounts, like Igvault, G2G, Eldorado, PlayerAuctions, etc…
On these sites, there are many sellers which offer hundreds of COC accounts from Town Hall 9 to 15 for different prices. You can find your suitable account and buy it.
When choosing COC Accounts, there are several factors players are looking for, Price, After-sale Support, the safety of the account, and the payment process.
Igvault (IGV)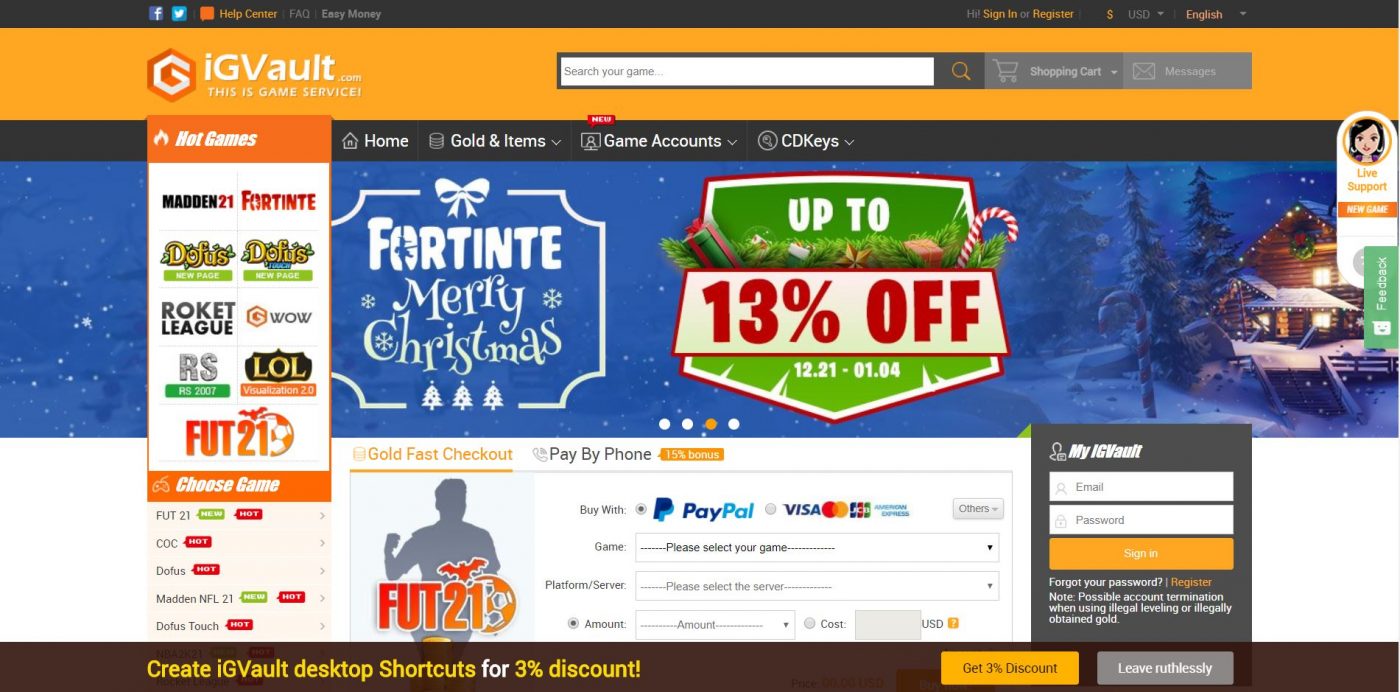 Igvault or recently known as IGV, is a Chinese-based company. They sell virtual goods since 2006. In Igvault everyone can sell their accounts, Gold, and gems for different games.
The most popular product in IGV is Leagues of Legends accounts, WoW gold, and FIFA gold.
They've recently added boosting services, but the variety of games is not high and at the date of updating this article, they only offer boosting services for three games.
Support: 8/10
Igvault has great 24/7 Live support, buyers can always contact them.
Sometimes support can't help you instantly, and they must ask their supervisor to answer your questions within 24h by email.
Withdrawal: 8/10
The withdrawal process is simple and fast. They pay sellers one day after the withdrawal order, except for Saturdays and Sundays.
Withdrawal with Skrill, PayPal, Webmoney, and Bank Transfer is accepted. The withdrawal fee for all methods is around 2% and even less.
Buying process: 6/10
The buying process is not completely straightforward to get a Clash of Clans account in Igvault, you must first verify your identity with a selfie and passport in your hand.
After successful verification, the buyer can place an order and get the account.
Payment method: 10/10
They accept all kinds of payments, like PayPal, Skrill, Paysafe, Webmoney, Alipay, etc…
Account Safety: 5/10
Everything is good about Igvault except for one crucial problem, In Igvault there are many Clash of Clans accounts for sale with various sellers. Some sellers are good, However, some sellers are scammers. So you must be very careful.
All Clash of Clans accounts in Igvault have a 7 to 20 days guarantee (Mostly 20 days), but this guarantee period is not efficient. If a customer buys a Clash of Clans account from a scammer seller, there is not any guarantee to get his money back.
Conclusion for Igvault: 7.4/10
Igvault is a good place to get Clash of Clans accounts, but you must be careful when choosing an account there. We give 7.4/10 to Igvault overall.
Eldorado: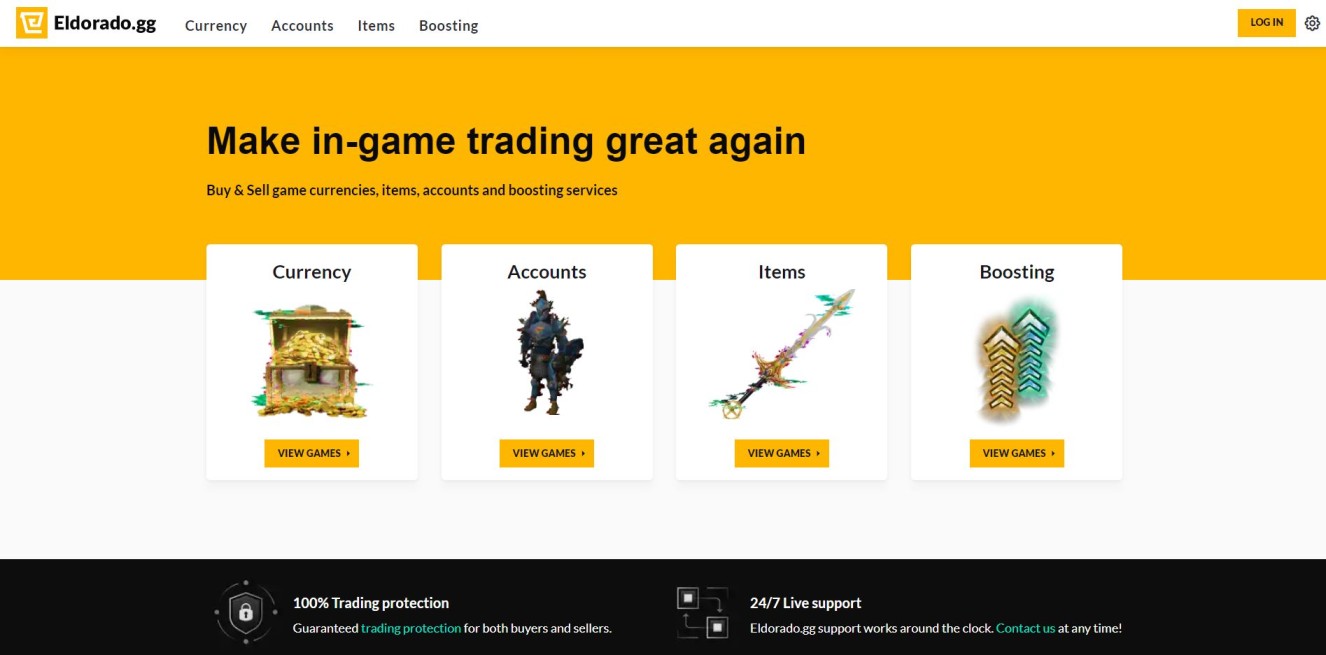 Eldorado is based in Lithuania. They are pretty new in this business compared to others and started their business in 2019.
They offer boosting services for a high variety of games like Dota2, WoW, LOL, and even Clash of Clans.
In Eldorado, you also can buy items, currency, and accounts of different popular games, In my opinion, Eldorado has a perfect variety of games.
Support: 10/10
Eldorado also has 24/7 Live support, so you can always contact them and ask for support. They will usually answer you fast and accurately.
Withdrawal: 6/10
The withdrawal process is simple and fast. They will pay in 24 hours once you place a withdrawal order, except for Saturdays and Sundays.
Withdrawal with Skrill, Crypto, SEPA, and Payoneer is available. However, the withdrawal fee is very high compared to Igvault. For example, to withdraw your money with Crypto, they will ask for 4% plus 20 USD, which for Igvault is less than 2% plus 1 USD.
So if you request to withdraw 100 USD with crypto from your wallet, you only will receive 76 USD.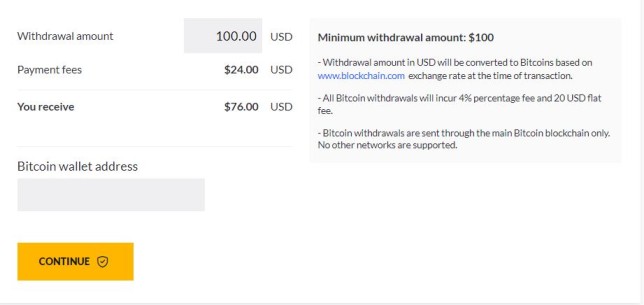 Eldorado withdrawal fee example for 100 USD withdrawal
Buying process: 8/10
The buying process and user interface of the website are great. The only problem is they will ask for ID or payment card verification. So if you don't like to do verification to get a Clash of Clans account, this is not the place to look up.
After doing the payment and verifications, you can chat with the seller and get your order from him.
Payment method: 8/10
Eldorado only accepts credit cards and Cryptos. Other Payment methods like PayPal or Skrill are not available. So in terms of the variety of accepted payment methods, they will get a lower score.
Account Safety: 4/10
In Eldorado like its competitor, Igvault, there are many Clash of Clans accounts for sale with various sellers. The problem is the fact that Some sellers are good, but, some of them are scammers.
The guarantee period for all Clash of Clans accounts in Eldorado is only 5 days. So after 5 days, if anything happens to your account, which even was not your fault, you will not be able to ask for support and will lose your money.
Conclusion for Eldorado: 7.2/10
In conclusion, I can say Eldorado has a modern and beautiful user interface (Better than Igvault) and has great support, but when choosing a Clash of Clans account there, you must be careful from which seller you are going to buy so as not to lose your money. We give 7.2/10 to Eldorado overall.
G2G: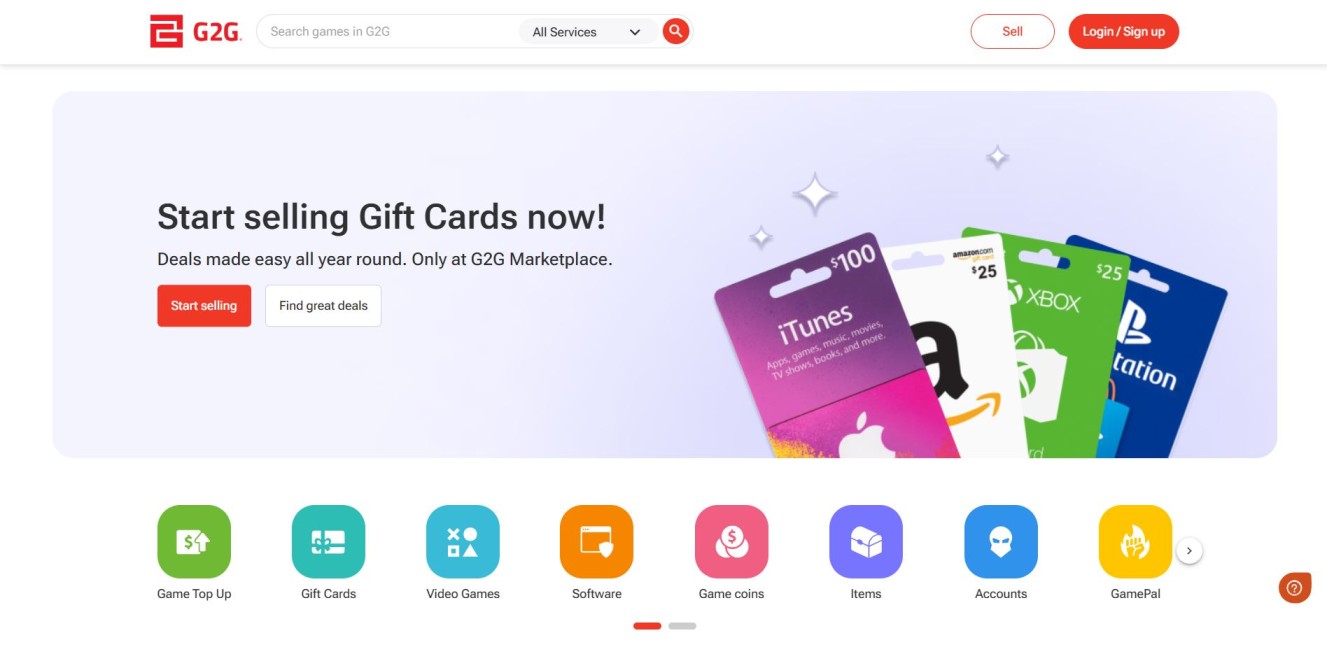 G2g, like IGV, is a company based in Asia but located in Singapore and Indonesia.
compared to other companies in this business like Zeusx, Eldorado, or PlayerAuctions, G2G is the oldest (Established in 2013) and biggest Clash of Clans marketplace, with different game accounts available for sale, boosting services, top-ups, etc.
Support: 7/10
Unlike other competitors like IGV, in G2G there is not any live-chat to answer your question or problems instantly.
Instead, they only let you contact them by submitting a ticket. According to our experience with their support, it usually takes a few hours for them to answer you, so it is not so fast.
Not to mention that if you live in East Asia like Singapore, you can call the support.
Withdrawal: 7/10
G2G, offers a variety of withdrawal options including, Payoneer, PayPal, and Skrill for players all around the world and banking transfer options only for players in Malaysia, Singapore, and Indonesia.
I'd like to see Cryptocurrency as a withdrawal payment method like other companies, but at the time of writing this article, they don't offer it.
The withdrawal fee varies on what payment and what currency you choose. In general, their withdrawal fee is moderate (lower than Eldorado but a little bit higher than IGV).
For instance, if you ask to receive money with Skrill in USD, the fee will be 5%+1 USD for each transaction.
When a player request for a withdrawal, they will pay him on the next working day. (From Monday to Friday)
Buying process: 7/10
G2G website has a beautiful and smooth user interface which makes the buying process easy and enjoyable for customers, overall.
The negative point about the buying process of an account (Let's say Clash of Clans) in G2G is that they enforce their customers to verify their identity and complete the KYC process, which in my experience, it is not an easy process.
Once you buy an account, depending on what payment method you chose, delivery speed can vary. They can send you account login information from 15 minutes to 3–5 days.
Payment Method: 10/10
Over 200 different payment methods for buying accounts and services are available. (Credit & Debit Cards, Cryptocurrency, Apple play, etc)
In terms of the variety of payment options, G2G is better than its other competitors and offers more options.
Account Safety: 7/10
Accounts in G2G, have only 14 days guarantee (Insurance Period). Which is absolutely moderate, weaker than IGV but better than Eldorado.
Looking on the bright side, to become a seller on G2G you need to pass a strict verification process, so everyone cannot start selling easily, as a result, the safety of accounts is good.
Conclusion for G2G: 7.6/10
G2G performed better than its competitor marketplaces, I myself also like them more than the others. In total, I give G2G, 7.6 out of 10.
Why we do not recommend choosing a COC account in those big markets?
There is a fact here that any customer should concern about before choosing a Clash of Clans account. Most of the accounts on those marketplaces are scams. So we don't recommend them at all.
I've seen many people scammed by sellers on Igvault, Eldorado, G2G, and PlayerAuctions. Here is an example watch the screenshot below, these are negative comments for one of the top COC sellers on Igvault.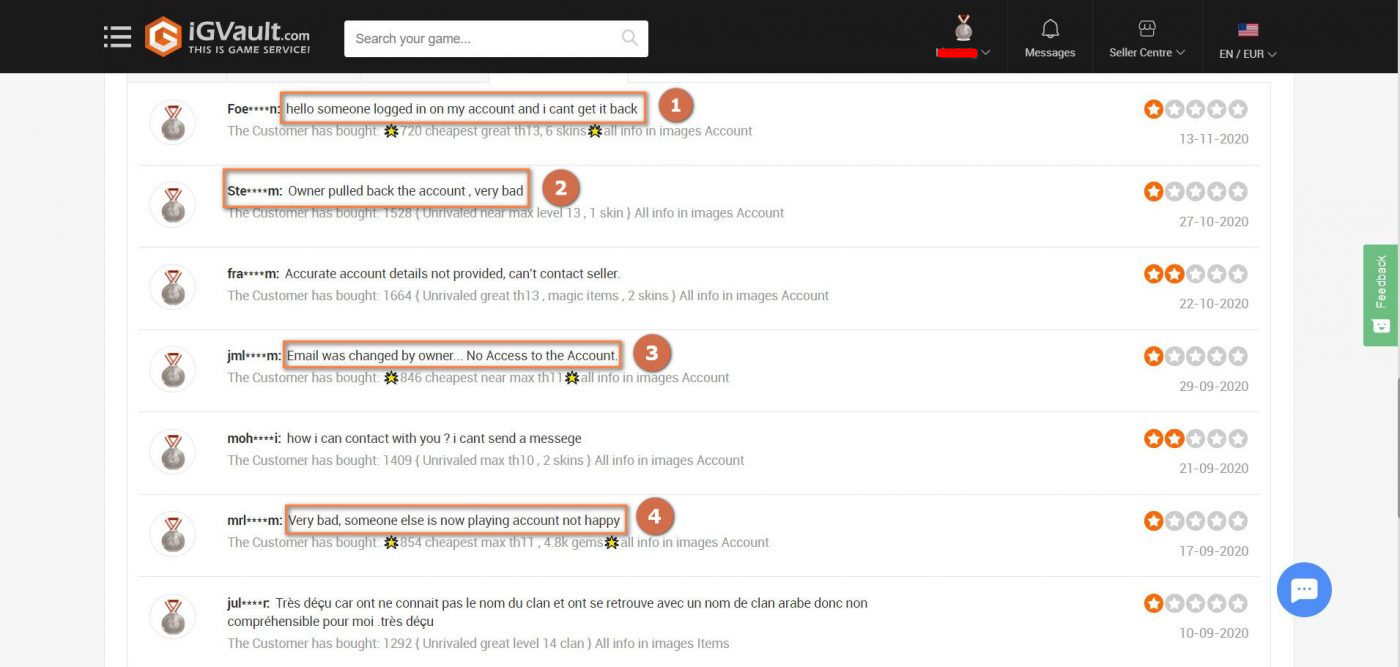 These sites give customers a 5-20 days guarantee if anything happens to the account during this time, customers can raise a dispute to make a chance to take back their valuable money.
However, this guarantee period cannot save customers from a scam COC account for sale, because of two reasons.
Reason 1: When the customer raises a dispute during guarantee time, the seller can refuse to accept his fault and in most cases, these marketplaces, give the right to the seller and the customer cannot take back his money.
Reason 2: Scammer sellers wait until the end of the guarantee period, after that, They will take back their account from the customer by changing the email associated to supercell ID.
So because the guaranteed time has finished before, the customer cannot raise a dispute and take back his money!
Therefore, by choosing from these Clash of Clans marketplaces, you are putting your valuable money at risk.
I'm not saying all the Clash of Clans accounts there, are scams or all sellers are scammers, However, I confidently can say more than 60% percent of Clash of Clans accounts on those marketplaces have problems.
How to avoid scammers when choosing an account:
If you want to get a Clash of Clans account from those big Clash of Clans marketplaces (I don't recommend), you should first look at the seller's reputation and see all negative comments on the seller's profile, then decide to buy from that seller or not.
Don't choose accounts from new sellers or sellers with a lower than 95% satisfying rate.
Maybe you see a top seller which already sold thousands of COC accounts, first look at the seller's comments/reviews section. If there are 3 or 4 negative comments which say they've lost their accounts, don't get an account from that seller!
Get COC accounts from a legit & responsible marketplace: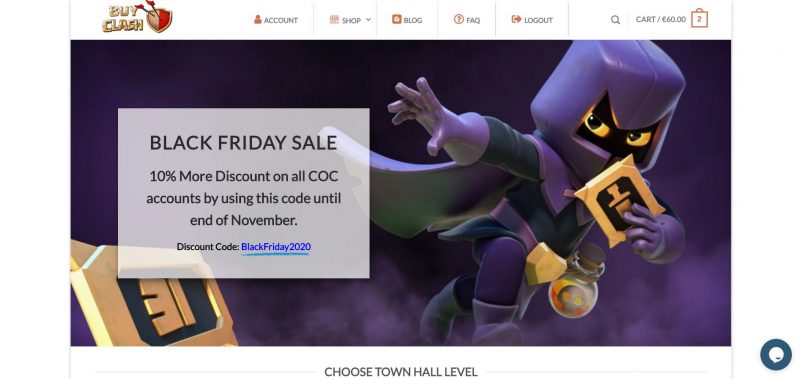 Buy-clash is a Clash of Clans marketplace with 100% Safe and Legit COC accounts for sale, where Clash of Clans players can get safe and legit accounts confidently. We care a lot about our customers.
We get these accounts from their real owners connected to Google Play or Apple ID, After that, we will connect all the accounts to supercell ID with a fresh Email, So you can play with our accounts confidently.
Because we ourselves link all Clash of Clans accounts to a fresh Gmail, We are sure the previous owners of accounts no longer have access to their accounts, as a result, they cannot bother our customers.
We are the first and only marketplace doing this. In all other marketplaces, 95% of accounts are already linked to supercell ID so when you get an account from a seller on those marketplaces, despite the fact that you changed the password and security settings of the Gmail, still, there is a high risk that previous owner login back to the account and make trouble for you or cause your account to get banned or locked.
All the Clash of Clans accounts that we sell here have a Lifetime Warranty. It means we will refund you if anything happens to your account at any time.
If you are looking for a legit Clash of Clans marketplace to find completely safe and secure COC accounts for sale, give it a try on Buy-clash.
Instant Delivery:
After successful payment, you will receive Gmail login information (Gmail address, Password, Backup codes) instantly into your inbox (Please make sure to check the Spam folder and promotion folder too). So you can start playing with the account instantly.
Payment Method:
We accept All Debit and Credit cards, Visa, and Master Cards from customers all over the world except for customers in the USA. Unfortunately for American customers, only payment with Cryptocurrency is available. If you don't know how to pay with cryptocurrency, don't hesitate to get in touch with us with live chat. We will help you step by step to get your account with crypto.
Visit all Clash of Clans accounts we sell here.
After I get a COC account, how can I avoid my account getting banned?
After you get a Clash of Clans account, please make sure to follow these 4 simple things below exactly, so you can continue playing with the account forever.
1- First avoid contacting supercell support for any reason. If you contact them, your account can get banned permanently.
2- Don't change the name of the account or name of the supercell ID, before 10 days.
3-If you want to buy anything inside the account like gems or gold pass, wait for the first 10 days to pass.
4- Only log in with one device to the account in the first 10 days.
Some frequently asked questions about choosing a Clash of Clans account:
Should I get a COC account?
By purchasing an account, you are saving many years of effort, and you will be able to play with a High-Level Clash of Clans account instantly.
However, you must be careful because many scammers want to scam players by selling the COC account on the internet.
What is the Average Price for a COC account?
The average price for a COC TH 10 is 25-35 Euro for TH11 35-65, TH12 40-100, TH13 40-160, and TH14 50-180 Euro. For a max TH13, the price is around 150-250 Euro, and finally, a max Clash of Clans account (TH14 Max) is worth about 180-340 Euro.
What to look at when choosing a Clash of Clans account?
1-Town Hall Level: First you need to check the Town Hall level. In Buy-clash Only Clash of Clans accounts with Town Hall 10, 11, 12,13, and 14 are available.
With a higher Town Hall Level, you'll be able to use more variant troops, Heroes, and defenses. The higher the town hall level, the more expensive the account.

2-Level of Heroes: Heroes are an essential part of your village. You can plan different strategies with your heroes to attack enemies. So after checking the Town Hall level, you should check the level of heroes.

3-Level of Walls: Walls are much important. Without strong walls, you'll lose every battle easily. Upgrading Walls are difficult and time-consumable, so before choosing an account, you need to check the level of Walls.

4-Gems: Gems will help you to upgrade your defense, troops, and heroes Instantly. You can also buy Gems in the game, but they are very costly.
So, it's better to select a COC account with a good number of gems. Moreover, in some accounts, you need to have enough gems more than 500 Gems to change the name.
Where to get a safe and legit COC account?
There are various Clash of Clans marketplaces on the internet to get an account. However, you must be careful in those marketplaces because there are lots of scammers.
If you want to get a Clash of Clans accounts confidently, we recommend buying from a legit marketplace.
Is there any place to get a Clash of Clans account for free?
No! There is not any place to get a Clash of Clans account for free. It's not logical that you spend years of your life playing on the account and eventually give it away for free to a stranger. If I see any website trying to give me a free account, I'm sure it is a scam.
My account is permanently banned, How can I recover it?
When your account is permanently banned, there is no way to unban the account, but if your account is locked you can recover the account by answering the questions that supercell will ask you like when you created the account. Or what is the first name of your account? Or maybe they ask you to send them a screenshot from the transaction of your first purchase in the account. So if you provide the correct answers to their questions, they will recover your Clash of Clans account. For more information, visit How to recover your Clash of Clans article, we discussed it in detail.
How many COC accounts am I able to have in a single device?
There is not any limit on how many accounts you can have on a device, on the other hand, you can have as many as accounts you want on a single device. In case all your accounts are linked to supercell ID, you can switch between your accounts instantly in the game.
Will supercell ban My account if I play with my account on pc with an android simulator?
No, your Clash of Clans account won't get banned if you play on an android simulator like Bluestack, but if you use bots or sites to get free gems they will ban your account, or they will change the number of your gems to a negative number as a punishment.